ABOUT US
Some things you need to know about USAsia Pacific Company
WHY WE ARE BETTER AT
EB-5 INVESTMENTS
ML Companies and Access the USA (AUSA) is a U.S. Immigration Approved Regional Center that strives to support non U.S. Citizens who wish to immigrate to the United States through the EB-5 immigrant investment program. The team at ML Companies and Access the USA will use the EB-5 program to help individuals and/or families that wish to live in the United States gain permanent resident status. We understand that this transaction can be challenging, and our goal is to make it as seamless as possible. We offer resources to aid families as they adapt to living in a new country, including education information, immigration process status, links to community services and groups, and the best legal team for both immigration and business real estate transactions. Additionally, we are the only regional center that provides full concierge services in your native language.
Our mission is to increase employment and promote regional economic growth through targeted investments while also assisting nonresidents to become integrated, permanent U.S. residents. Immigration to the U.S. is a complicated process. We understand that and have personal experience navigating the system. ML Companies and Access the USA's legal team will assemble and submit the necessary immigration application paperwork on your behalf. We also provide up-to-the minute status of your green card application. If you prefer, you have the option to use your own attorney to submit your immigration application. As the premier EB-5 immigration investment company, ML Companies and Access the USA offers superior investment opportunities in the Pacific Northwest.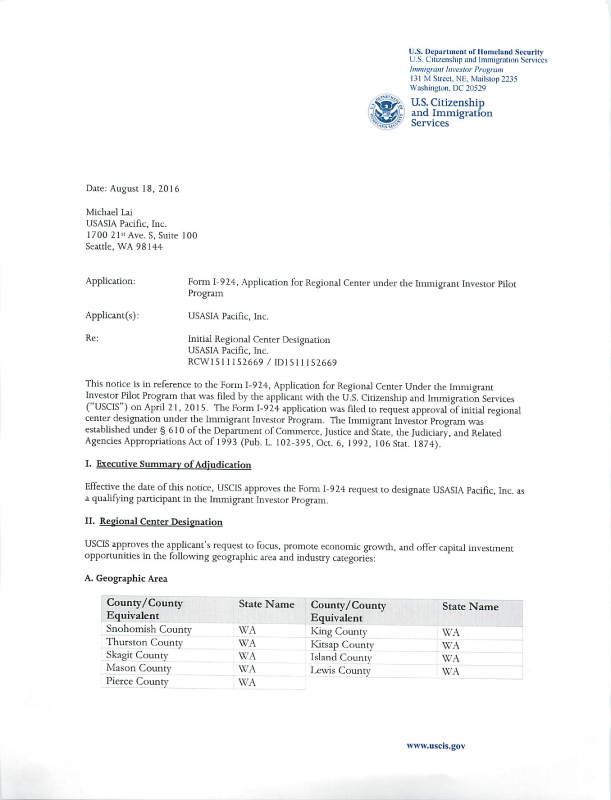 US Immigration Certificate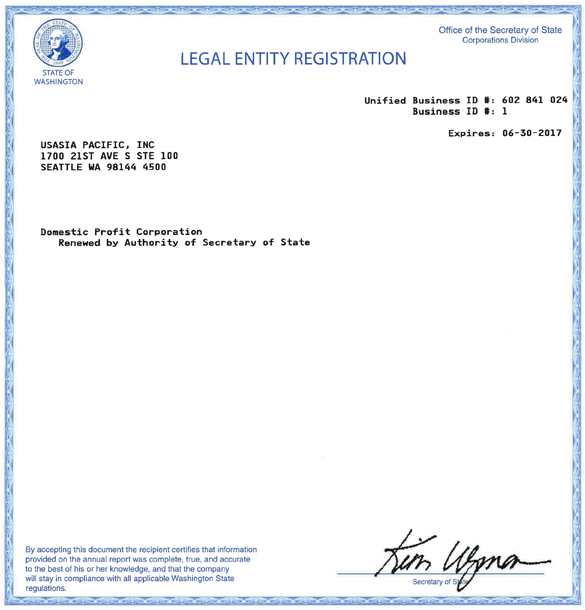 Business License
OUR EB-5 PROGRAM
We provide EB-5 Immigrant Investor Program provides our investors with a unique opportunity to receive an exit strategy after approval of I-829 (approx. 3-4 years) in lieu of waiting 5 years for their principal return.
PROCESS
The client invests $800,000 into the Kent Station project and becomes a member of the Kent Station (partnership). Upon USCIS approval of the client's I-526 application, the client is granted a 2-year conditional green card. After 2 years, the client is required to apply for an I-829 to remove conditional residence.
EXIT STRATEGY
Once approved, the client has the option to receive the principal amount back (after 5 years).
OUR DEDICATED TEAM OF EXPERTS
WE ARE EMPOWERED BY OUR ABUNDANT PASSION
Michael Lai

CEO / Investing Partner

Michael has over 14 years of experience in all aspects of the commercial and residential brokerage business. His broad background includes completion of over 750 residential transactions, over 55 investment transactions as well as three years of property insurance adjustment experience. Michael has also led an institutional investment brokerage team. Since 2005, the RNT team sold 100 million-dollar assets annually, collectively worth more than 800 million. These assets ranged from downtown multi-family projects, residential subdivision developments, to retail shopping centers. He is an active member of the ICSC International Council of Shopping Centers, CBA Commercial Broker Association, CCIM Certified Commercial Investment Member, CIPS Certify International Property Specialists and State Approval Real Estate Instructor. In addition, he has lectured and been a guest speaker at numerous industry conferences. trial assets throughout the Pacific Northwest as well as investing in high-growth companies.

Justin Stewart, LEED AP

Vice President / Construction

Justin Stewart is a Principal Partner of Synergy Construction, a successful general contractor in the Western Washington region for over 20 years. He has a bachelor's degree in Communication from the University of Arizona and is recognized by the USGBC as a LEED® Accredited Professional. Justin has been involved in the construction industry his entire life. His extensive knowledge of all aspects of the construction industry was learned from hands-on-experience — he has worked as a laborer, carpenter, superintendent, project manager and today, as principal partner. He has broad knowledge of the complex requirements of the various funding sources, including those for projects using public investments, tax credits and other funding streams. Synergy has an impressive portfolio of industrial, commercial, mixed-use and multifamily construction projects. Justin's broad experience in construction, his management skills, administrative training and commitment to excellence are invaluable assets to the Path America team.
SUCCESSFUL COMPLETIONS
WE'VE BEEN BUSY AS THIS SHORT LIST REPRESENTS
Fieldstone North and South, Lynnwood
$23,000,000
Silver Pie Project, Everett
$12,000,000
Bay View Shopping Center, Federal Way
$2,500,000
Prudential RNT Building, Seattle
$2,200,000
Henderson Condominiums, Seattle
$1,400,000
7532 Renton Ave S, Seattle
$1,300,000
7500 Renton Ave S, Seattle
$1,000,000
Pacific Rim Condominiums
$500,000
West Park, Everett
$495,000
Lake Ridge 5 View Lots, Seattle
$450,000
3800 S Eddy St (Medical Building), Seattle
$400,000
1225 S Weller St, Seattle
$330,000
Eanest Brazil & 11 Ave, Tacoma
$225,000
Synergy Construction, Inc. – Partner
Synergy Construction, Inc. was founded on the basic principle "Quality with Integrity," which remains its daily focus. Founded in 1990 by Larry and Pamela Stewart, who have over 30 years of experience working as a team in the construction industry, Synergy has built thousands of housing units throughoutthe Western United States. Synergy has built an industry-leading reputation by successfully taking on the most technically complex projects and the tightest urban project sites. Synergy's bonding capacity is over $70 million per year, and its expert management staff is experienced with all types of construction, from high-rise to low-rise, as well as industrial. Known for its quality workmanship, strong management and communications, the Synergy team makes the construction process a pleasant experience for all — on time and on budget.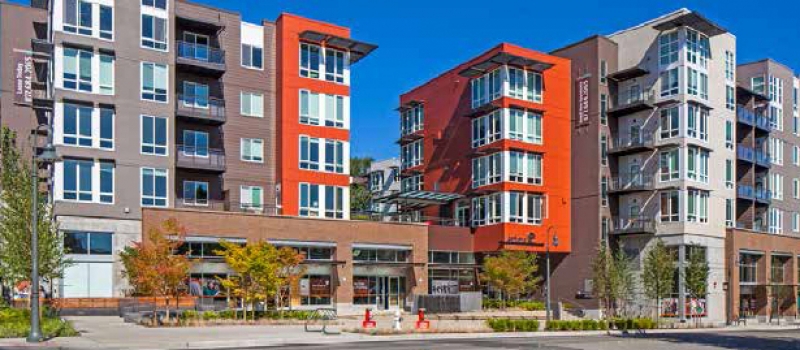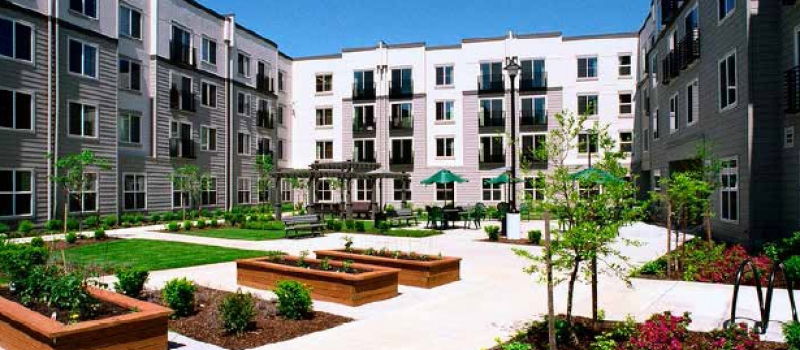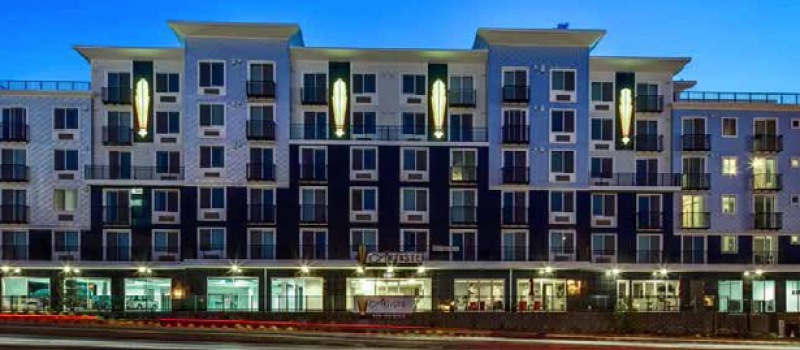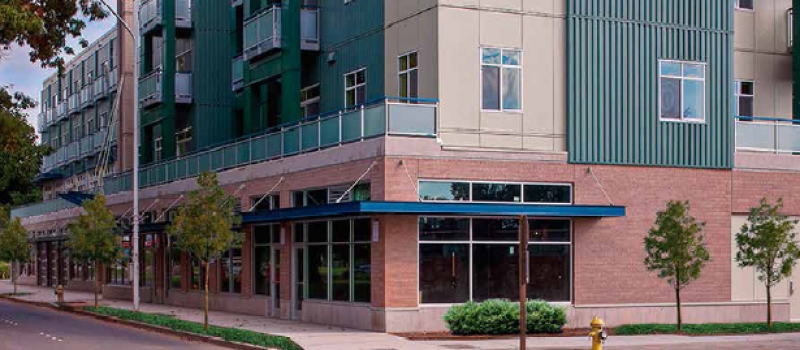 CARON ARCHICTECTURE – Partner
RADIM BLAZEJ CEO & Founder – Radim is the energy and vision that leads Caron across all market sectors. A true advocate for intelligent design, Radim founded Caron to provide comprehensive services to fully support clients' dynamic real estate ventures. He directs the overall design vision and business strategy that clearly differentiates Caron from basic the architectural firm. His goal is to bring forth a unified solution to suit clients' diverse investment challenges and opportunities. As Principal-in-Charge, Radim will ensure that all aspects of the regulatory requirements, guidelines and standards exceed the Owner's expectations. Under his leadership and design direction, Caron will deliver cost effective, low-maintenance design solutions that are aligned with the Owner's investment objectives. Radim's knowledge of the latest cost-effective multi-family design and construction trends, real estate market conditions and land-use regulations will ensure the delivery of an engaging project that responds to your project Vision.
REGISTERED ARCHITECT IN THE USA
• Alaska
• Oregon
• California
• Hawaii
• Nevada
EDUCATION
• Graduate Certificate, Commercial Real Estate University of Washington Seattle, WA USA
• Master of Architecture Miami University Oxford, OH USA
• Bachelor of Architecture Technical University of Czech
PROFESSIONAL AFFILIATES
• NAIOP | Commercial Real Estate Development Association, member
• ULI | Urban Land Institute, member
• NCARB | National Council of Architectural
ACCESS THE USA REGINAL CENTER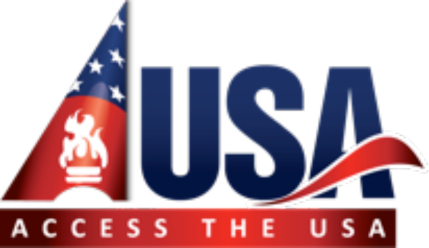 AUSA's team doing business as Washington Regional Center has specially designed an EB-5 program that utilizes security and transparency as a core value and helps EB-5 investors to get their visa. By utilizing professional contractors to manage our projects, AUSA has been successful in making the projects less prone to mistakes, providing transparency and reliability.
Current Projects:
In 2012 AUSA, raised $41.5 million from immigration investment for its first project "520 replacement bridge". This project was started with the objective of rebuilding the old floating bridge with modern design to withstand earthquake and stronger cables to resist the waves. The project has a favorable ending and helped our investors to get their green cards.  READ MORE…